---
G's writer, Caitlin Howlett, has a chat on all things green.
Latest blog entry:
How to go meat-free
---
G's editor, Emma Bowen, has a chat on all things green.
Latest blog entry:
Always learning...
---
What's new with sustainability issues in the corporate world? Finance journalist LEON GETTLER susses out the good, the bad and the green.
Latest blog entry:
Renewables to eclipse coal
---
Think global, act local, right? Is it really that easy? It is if you do it one step at a time, or one month at a time. Join JULIE as she embarks on the G Challenge, where she vows to take on whatever green commitment we throw at her.
Latest blog entry:
Your cosmetics challenge
---
From fashion to breaking news, the G Magazine team are on the pulse of all things green.
Latest blog entry:
Green on the red carpet
---
Reducing consumption is the name of the game, but let's make sure what we do buy is as green as possible. Danin Kahn takes a look at eco products and how they make an impact in more ways than one.
Latest blog entry:
Microsolar power: plug into the sun
---
Follow John Pickrell as he posts live from the Copenhagen Climate Change Conference.
Latest blog entry:
Failure for talks
---
Where does our food come from? How do we eat locally? What foods are best for the environment? RICHARD CORNISH ponders.
Latest blog entry:
The beef secret they didn't want you to know
---
Whether you're camping at your local beach or backpacking around the world, there are ways you can tread more lightly. Green travel writer LOUISE SOUTHERDEN gives her take on responsible roving.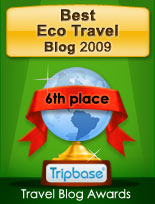 Tripbase Blog Awards 2009
Latest blog entry:
Have yourself a jolly green Christmas
---
Environmental scientist and author REBECCA BLACKBURN discusses the tips, tools, tricks and trials of being green around the home.
Latest blog entry:
Are serviettes the new plastic bag?
---
To stop global warming we have to implement a grand strategy to obtain our energy for electricity, transport and other uses without generating carbon dioxide. ALAN FINKEL looks at ways to reduce CO2 emissions today, using existing technology.
Latest blog entry:
Stop talking about targets and start taking action
---
Imagine Nigella Lawson in Hessian, Martha Stewart baking compost and Shannon Lush emitting nothing but vinegar and bicarb … welcome to the Domestic Goddess's Guide To Green with ALEX BROOKS.
Latest blog entry:
Oops, I got un-married.
---